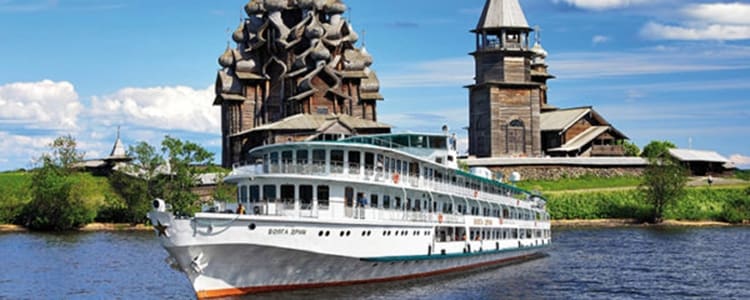 **River Cruise Your Way no longer offers river cruises to Russia effective 02/22/2022**
Covering nearly an eighth of the world's land surface, Russia is a land whose enigmatic people, tumultuous history, and vast spaces make it nearly impossible for the average traveler to take it all in — which is what makes a river cruise aboard the Volga Dream ("the most intimate and elegant 5-star cruise vessel in Russia") the ideal way to make the most of a visit to Mother Russia.
Family owned and operated; the Volga Dream entered service in 2007 after a comprehensive, two-year renovation. Designed in classic décor with a Russian touch, and accommodating just 100 passengers, the ship's intimate ambiance is ideal for the active onboard social life, which includes cooking demonstrations, language lessons, documentary films, concerts, matrioshka painting classes, and more. Shore excursions, led by expert local guides, spotlight centuries of culture and history and visit breathtaking treasures, including the Hermitage, one of the biggest — and most ornate — museums in the world, housed in the former Winter Palace.
The Volga Dream's 50 staterooms are located over four decks, ranging from Standard Cabins to Deluxe Staterooms and an Owner's Suite, all equipped with the latest comforts and amenities. Lengthy stays docked in the center of St. Petersburg and Moscow help make a cruise on the Volga Dream a rare opportunity to spend time getting to know one of the most mysterious and magical places on Earth.
Your Volga Dream River Cruise Awaits!
Are you ready to start planning your Volga Dream River Cruise Vacation Your Way? A River Cruise Artist at River Cruise Your Way is ready to be your vacation concierge. Contact us today at 1-800-259-7612 or use the form below and let us know when it is most convenient to call you, we will confirm via e-mail, and then reach out at the agreed upon time and date.