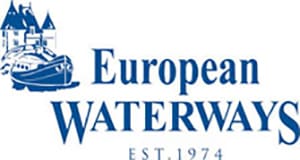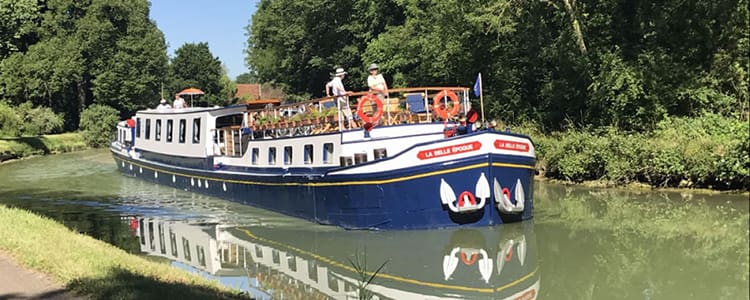 Away from the busy atmosphere of city life, hotel barge cruises by European Waterways allow travelers to vacation in luxury without the difficulties of packing and unpacking each day, all while enjoying daily excursions and fascinating cruising. European Waterways was founded in 1974 and today has a wealth of knowledge and experience to share with their travelers. The largest barging company in Europe, European Waterways is privately owned helping to ensure their guests will experience consistently high standards of service, as well as extensive and valuable experience in their destinations.
European Waterways has a hotel barge fleet of 17 vessels that carry up to 20 passengers each with cabin sizes varying from cozy and compact to ultra-deluxe staterooms. Their expert and attentive staff are highly trained to provide premium levels of service and making you feel totally at home. They offer the greatest choice of destinations of any hotel barge company. Cruising rivers and canals from the Midi in Southern France to the Scottish Highlands and from Ireland in the West to Venice in the East. You will find the perfect hotel barge cruise with European Waterways.
European Waterways canal barge vessels gently introduce you to some of Europe's amazing scenery, fascinating history and local culture. Every European Waterways six-night barge cruise includes all gourmet meals, regional wines, an open bar, local transfers and the use of on-board facilities such as bicycles to explore the towpaths, a sundeck to enjoy, or a spa pool to relax in. They also offer daily escorted excursions to local wineries, castles, markets or to see craftsmen at work. Today is the day to embark on your next adventure with a hotel barge cruise by European Waterways.
Your European Waterways River Cruise Awaits!
Are you ready to start planning your European Waterways River Cruise Vacation Your Way? A River Cruise Artist at River Cruise Your Way is ready to be your vacation concierge. Contact us today at 1-800-259-7612 or use the form below and let us know when it is most convenient to call you, we will confirm via e-mail, and then reach out at the agreed upon time and date.