Magna Carta Steamship Company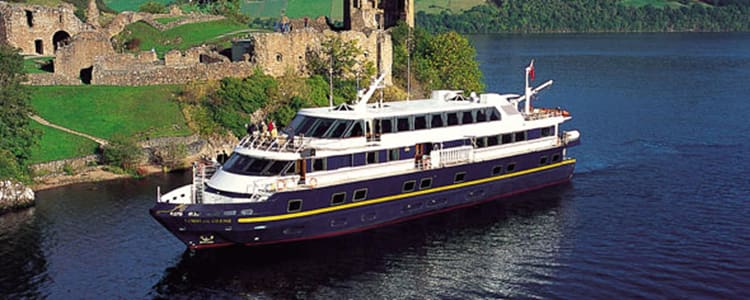 A wild and pristine land studded with lochs, canals, and rivers, Scotland is a stunning cruise destination, and the Magna Carta Steamship Company's 150-foot yacht, Lord of the Glens, is the perfect way to take it all in. With the ambiance of a country manor house, outfitted in warm woods and overstuffed furnishings, this stately ship carries just 54 passengers in classic style and comfort through the magnificent scenery of Caledonia.
The ship's well-appointed staterooms feature comfortable furnishings and artwork inspired by the Highlands, as well as all the modern amenities, including satellite TV, air conditioning, and hair dryers and robes. The restaurant, boasting fine china, silver, and French crystal, and meals featuring the finest local ingredients, offers open seating that allows guests freedom to eat on their schedule.
Cozy and convivial, filled with unforgettable visits to castles, lochs, distilleries, and more, the Lord of the Glens and the Magna Carta Steamship Company deliver a cruise experience as unique and unforgettable as Scotland itself.
Your Magna Carta Steamship Company River Cruise Awaits!
Are you ready to start planning your Magna Carta Steamship Company River Cruise Vacation Your Way? A River Cruise Artist at River Cruise Your Way is ready to be your vacation concierge. Contact us today at 1-800-259-7612 or use the form below and let us know when it is most convenient to call you, we will confirm via e-mail, and then reach out at the agreed upon time and date.