Why River Cruising
If you found River Cruise Your Way, you have already heard of the wonders of river cruising. This quickly growing and exciting form of vacationing is now more popular than ever. Although relatively a new travel format, river cruising has matured greatly over the past decade to now offer a wide variety of cruise lines, ships, and price points, giving river cruisers the chance to experience more than 40 rivers around the globe. When you river cruise, you not only enjoy the great benefits of cruising, but you explore some new and amazing destinations with exciting history, unique culture, and sensational natural beauty. Here are some benefits of river cruising that make this wonderful form of vacationing even better!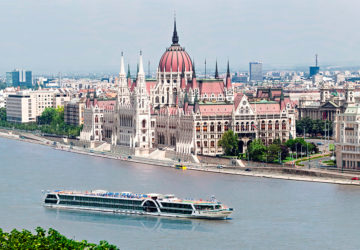 Unpack Only Once
Unlike land tours, you only have to unpack once (for the cruise portion of your trip), and the new and exciting ports of call come to you! This takes away much of the stress and inconvenience of traveling, making river cruising a relaxing adventure.
Amazing Views
As you sail down the river of your choice, you have the chance to see beautiful views of natural scenery, quaint river towns, and vibrant cities up close! Sometimes just relaxing watching the scenes go by is the best part of a river cruise.
Iconic Ports of Call
Sail from one amazing port to another as you cruise through your destination. History was built on the rivers of the world. You can visit many exceptional destinations and UNESCO World Heritage Sites without having to pack and unpack your suitcase.
Local Guided Excursions
Professional local guided tours and excursions are usually included with each port-of-call on your river cruise – providing you with the convenience of exceptional local knowledge and insight as you explore your favorite river destination.
An Intimate Journey
River ships generally range from 30 to 160 passenger capacity, so your journey is unlike traditional cruising. It is a more intimate, relaxed, and easy-going adventure for the senses. No huge crowds to deal with increasing your comfort while traveling.
Cultural Connections
Whether planned and included with your cruise, or unplanned, you will experience unique cultural connections on your river cruise. These could include onboard enrichment programs, destination immersion touring, or just mingling with locals as you explore.
The Choice is Yours
There are over 70 river cruise operators sailing more than 40 rivers – so you have an exciting choice of hundreds of ships and thousands of itineraries around the globe. There are an endless number of river cruise adventures waiting for you.
Service & Accommodations
River cruise operators are keenly focused on your vacation experience. With the manageable size of most river cruise ships, you will experience some of the best service and excellent accommodations as you cruise the rivers of the world.
All-Inclusive Value
Sometimes river cruising can give a traveler 'sticker shock', but keep in mind that the pricing includes your hotel, all your meals, all your excursions, as well as onboard entertainment and high levels of service – making it an excellent travel value!
Wine & Dine
Many river cruise operators focus heavily on providing their travelers with an amazing dining experience, with all meals and often times wine included with your cruise fare. You will find a pleasant variety of local and traditional choices for every meal.
Concierge Services
The operators of river cruise ships are there to be your guides on your adventure. The onboard staff know the destinations intimately, and are there to guide you on your journey. If you decide to explore a port on your own, they will help you do it right.
Themed Cruises
If you are a foody, a history buff, or a wildlife enthusiast, there may just be a perfect river cruise for you. Many river cruise operators feature special theme departures that will treat you to the very best of what you really crave on your vacation.
Your Customized River Cruise Vacation Awaits!
Are you ready to start planning your fully customized River Cruise Vacation Your Way? A River Cruise Artist at River Cruise Your Way is ready to be your vacation concierge. Contact us today at 1-800-259-7612 or use the form below and let us know when it is most convenient to call you, we will confirm via e-mail, and then reach out at the agreed upon time and date.