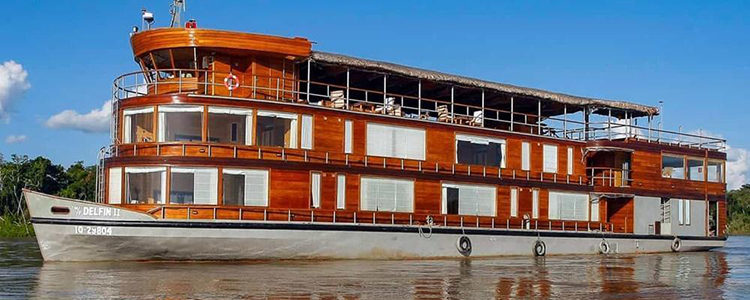 "The perfect gateway to the Upper Peruvian Amazon," home to the famous Pacaya Samiria National Reserve, Delfin was founded in 2006 by husband and wife team Aldo Machiavello and Lissy Urteaga. Committed from the start to practicing and promoting responsible tourism, Delfin has built strong relationships with local artisans, guides, and farmer markets, enhancing the authenticity of their adventures, from freshly-sourced meals to opportunities to experience everyday life along the river.
Delfin operates three beautiful ships, the four-suite Delfin I, the 14-suite Delfin II, and the newest addition, the 22-suite Delfin II. The ambiance onboard is casual elegance, with an emphasis on watching the passing scenery, with panoramic windows, spacious verandahs, and welcoming observation decks.
All three ships offer a variety of 3- and 4-night cruises that promise "an adventure for everyone." A wide variety of optional shore excursions are available, from guided trail walks, canopy walks 85 feet above the jungle floor, paddle boarding, kayaking, swimming with dolphins, sunset fishing for piranhas, birdwatching, and more.
Your Delfin Amazon River Cruise Awaits!
Are you ready to start planning your Delfin Amazon River Cruise Vacation Your Way? A River Cruise Artist at River Cruise Your Way is ready to be your vacation concierge. Contact us today at 1-800-259-7612 or use the form below and let us know when it is most convenient to call you, we will confirm via e-mail, and then reach out at the agreed upon time and date.