Vodohod Russian River Cruises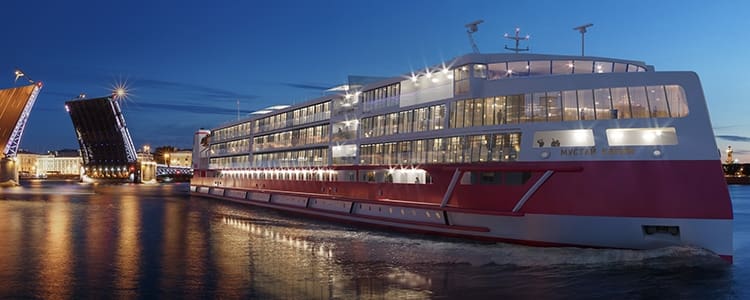 **River Cruise Your Way no longer offers river cruises to Russia effective 02/22/2022**
Vodohod Russian River Cruises is a Russian owned and operated company with a fleet of ships sailing the Volga and Svir Rivers and other lakes and waterways through the heart of this enchanting country. Vodohod's mission is to deliver excellent river cruise adventures to their guests in Russia with the hospitality of the open and generous soul of Russia. Vodohod has a staff of quality-trained crew that are experts cruising the waterways of Russia, as well experts at customer service.
The Vodohod group of itineraries not only features the most common Russian river cruise itinerary – sailing between Moscow and St. Petersburg, but also offers cruises south from Moscow to Astrakhan as well as Nizhny Novgorod. The Moscow to St. Petersburg cruise offers guests the very best of Russia with the Kremlin in Moscow to the Hermitage and Peterhof Palace in St. Petersburg. The port stops in between include historical wonders like Uglich, Yaroslavl, Goritsy, the island of Kizhi, and Mandrogi.
The ships that Vodohod sails range from 3-star to 5-star. Most North American travelers will find the 4-star and 5-star ships most comfortable. The Prince Vladimir (launching in 2020) and the Mstisalv Rostropovich are their 5-star ships and offer the best of comfort to their river cruise guests. Among their 4-star ships are the Kronshtadt, the Nizhny Novgorod, the Lev Tolstoy, the Nikolay Chernishevsky, and the Konstantin Fedin. Onboard the ships you will enjoy live folk shows, classical music concerts, nightly live music, as well as Russian language and song lessons. Exciting lectures on the history and contemporary life of Russia as well as traditional Russian dance lessons are also available.
Your Vodohod Russian River Cruise Awaits!
Are you ready to start planning your Vodohod Russian River Cruise Vacation Your Way? A River Cruise Artist at River Cruise Your Way is ready to be your vacation concierge. Contact us today at 1-800-259-7612 or use the form below and let us know when it is most convenient to call you, we will confirm via e-mail, and then reach out at the agreed upon time and date.