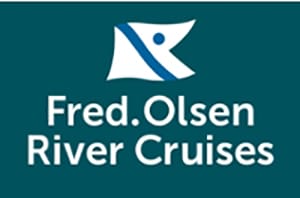 Fred. Olsen River Cruises are expertly crafted, like their ocean cruises, to offer their guests a relaxing and endlessly rewarding cruise vacation. Fred. Olsen River Cruises is a European owned and operated company with multi-national traveling customers making the cruise itself a cultural experience as you get to know your fellow cruisers from around the globe.
Join a Fred. Olsen River Cruise and you can take in the fairytale-like towns, world-famous vineyards and beautiful rolling hills of picturesque valleys; marvel at natural wonders such as the Iron Gates gorges and the Danube Delta; and discover awe-inspiring cities such as Vienna, Budapest, Cologne and Strasbourg to name just a few as you cruise the Danube, Main, Rhine or Moselle rivers. It's not just the destinations on our itineraries which ensure every Fred. Olsen River cruise is a very special experience though; our smaller river boat is key to you making the most of your well-earned vacation.
Sailing with about 150 fellow guests from Europe and beyond, you'll never feel overcrowded while enjoying the comfortable ambience, attentive service, delicious food and stunning scenery onboard the Brabant. The Brabant's compact size allows Fred. Olsen to moor as near to the heart of cities, towns and villages as operationally possible to bring the best of each destination closer to you.
Your Fred Olsen River Cruise Awaits!
Are you ready to start planning your Fred Olsen River Cruise Vacation Your Way? A River Cruise Artist at River Cruise Your Way is ready to be your vacation concierge. Contact us today at 1-800-259-7612 or use the form below and let us know when it is most convenient to call you, we will confirm via e-mail, and then reach out at the agreed upon time and date.