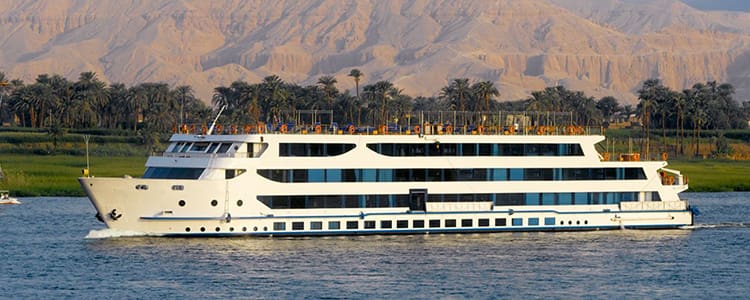 The Oberoi Group was founded in 1934 and today operates more than 30 hotels, 2 Nile River cruisers, and a river vessel on the waters of the Kerala River in India. With a footprint over six countries all operating under the luxury travel brand Oberoi and five-star Trident brand, the Oberoi Groups travel services are worldwide. The Oberoi Group's commitment to excellence and attention to detail with personalized service brings them praise from repeat guests and the worldwide hospitality industry.
The Oberoi Zahra and the Oberoi Philae, luxury Nile River ships, sail four-, five-, six-or seven-night cruises where guests can discover the ancient monuments and temples through more than 5000 years of Egyptian history and culture. Enjoy the Nile River in supreme style and comfort and take in traditional Egyptian dance and music performances onboard. Onboard guests will savor the delicacies crafted by talented MasterChef's featuring the finest Western, Indian, Asian and Middle Eastern cuisines.
Also onboard the Oberoi Zahra and Oberoi Philae you will find relaxing staterooms all with views of the Nile River and the ancient history that unveils in front of you. There are many features to their ships that will please all your senses. Step on board and luminate in the legendary hospitality of the Oberoi Nile River cruisers.
Your Oberoi Group River Cruise Awaits!
Are you ready to start planning your Oberoi Group River Cruise Vacation Your Way? A River Cruise Artist at River Cruise Your Way is ready to be your vacation concierge. Contact us today at 1-800-259-7612 or use the form below and let us know when it is most convenient to call you, we will confirm via e-mail, and then reach out at the agreed upon time and date.