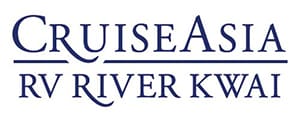 Cruise Asia is proud to offer the first 5-star inland river cruise ship in Thailand – the RV River Kwai. This unique ship was built as a colonial river cruiser based on the designs made popular in the Southeast Asia region by Irrawaddy Flotilla. The Flotilla was originally founded in Burma in 1865 and by the 1920's was the largest privately-owned fleet of ships in the world plying the rivers of the Irrawaddy, Chindwin, Mekong and others.
The RV River Kwai has an experienced and service focused crew of 10 and a multi-lingual Cruise Director. The ship provides superb a la carte meals served al fresco on the sun deck and an amazing itinerary unlike any other river cruise adventure that includes sights that were previously unreachable by any other means of transportation. You will enjoy the amazing views as you cruise along the River Kwai at a leisurely pace. Enjoy the vast and beautiful scenery and wildlife as you pass traditional fishing boats and rafts – elements of the local culture.
Cruise Asia has crafted dynamic river itineraries for the River Kwai incorporating local cultural immersion, historical learnings including visits to the Tha Kilen Train Station and the Jeath War Museum. Explore Buddhist and Hindu temples along your journey and take this truly unique deep dive into the culture of Thailand. Combine your Cruise Asia river cruise on the RV River Kwai with a customized itinerary to Bangkok or even Angkor Wat in Cambodia with the services of your river cruise specialist at River Cruise Your Way.
Your Cruise Asia River Cruise Awaits!
Are you ready to start planning your Cruise Asia River Cruise Vacation Your Way? A River Cruise Artist at River Cruise Your Way is ready to be your vacation concierge. Contact us today at 1-800-259-7612 or use the form below and let us know when it is most convenient to call you, we will confirm via e-mail, and then reach out at the agreed upon time and date.