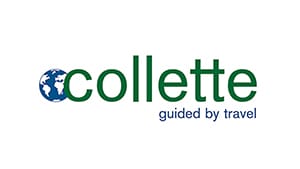 Collette Tours was started back in 1918 by Jack Collette with tours around New England and Canada and formed its base of operations in Providence Rhode Island. Since those early days Collette has grown to be a worldwide travel company of clear distinction with offices in the United States, Canada, Australia and the United Kingdom. Today Collette's worldwide travel collection features comprehensive land tours, river cruises, rail journeys, small group tours, family trips, garden holidays and more.
The amazing team of travel professionals at Collette believe that travel is vital to a life well-lived and are dedicated to making something special happen for each of their guests. Collette is passionate about delivering extraordinary worldwide travel experiences to enhance the lives not only of their traveling guests, but of the people in the communities they travel to. With Collette you will wake each morning on tour with a new experience ahead, and when your head hits the pillow, you will know it has been an amazing day.
Collette offers river cruise tours across the rivers of Europe, as well as the Nile of Egypt and the Yangtze of China. Perhaps a Springtime Tulip cruise of The Netherlands and Belgium is what you are looking for. Although the ships used for their river cruise journeys are not owned by Collette, they are carefully selected to ensure exceptional standards and the best in service.
Your Collette River Cruise Awaits!
Are you ready to start planning your Collette River Cruise Vacation Your Way? A River Cruise Artist at River Cruise Your Way is ready to be your vacation concierge. Contact us today at 1-800-259-7612 or use the form below and let us know when it is most convenient to call you, we will confirm via e-mail, and then reach out at the agreed upon time and date.