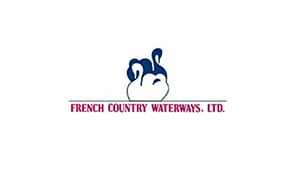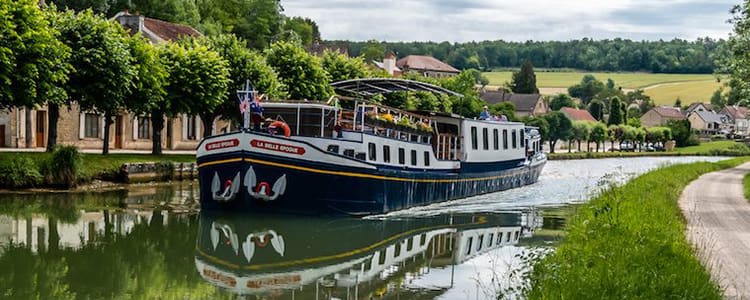 For more than 30 years, the American owned and operated company, French Country Waterways, has been cruising on the rivers, canals and waterways of France. These voyages of discovery are a unique way to see the true countryside and culture of France. Their luxury hotel barge cruises offer travelers one of the more serene, relaxing and refreshing river cruise vacation experiences available.
Each voyage includes six all-inclusive nights in aboard a luxury hotel barge cruiser. You will dine on world-class, chef-prepared gourmet cuisine and enjoy an array of exclusive wines from Grand Cru and Premier Cru vineyards, among others. On daily excursion opportunities you can visit historic châteaux, quaint medieval villages, and world-famous vineyards for tours and tastings. Back on your luxury hotel barge you can relax on deck with a fine wine watching the beautiful French countryside unfold before your eyes. Cruising on a French Country Waterways luxury barge allows you to gain a rare and insider's perspective of provincial France.
French Country Waterways is well trusted for operating a fine fleet of luxury hotel barges that cruise on France's waterways. These deluxe barges – the Adrienne, Esprit, Horizon II, Nenuphar, and Princess – have been thoughtfully designed to provide unparalleled passenger comfort. Aboard the hotel barges of French Country Waterways, you will find a gracious ambiance with wood paneling, provincial furnishings and plush carpets. The onboard staff is highly trained, friendly, and bi-lingual and specialize in providing exceptional service.
Your French Country Waterways River Cruise Awaits!
Are you ready to start planning your French Country Waterways River Cruise Vacation Your Way? A River Cruise Artist at River Cruise Your Way is ready to be your vacation concierge. Contact us today at 1-800-259-7612 or use the form below and let us know when it is most convenient to call you, we will confirm via e-mail, and then reach out at the agreed upon time and date.