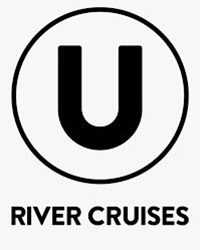 U River Cruises is "a new take on experiential travel," with cruises designed for those with a passion for exploring and a taste for authentic adventures. Believing that travel should be relaxing, exhilarating, convenient, and tailored to each individual's interests, "all at the same time," U strives to create a relaxed yet sumptuous ambiance filled with inspirational moments, from Instagram-worthy meals for foodies to carefully curated excursions perfect for one-of-a-kind travel snaps.
Part boutique hotel, part yacht, and part local hotspot, U's river ship was built for life on the river, and is sized to allow for easy docking in the heart of each port of call. Created for a younger and more independent traveler, the ships' relaxed schedules allow for late nights on the town or hanging out in the open-air rooftop lounge, listening to local guest DJs. as well as time for a leisurely breakfast before embarking on one of the day's activities, ranging from guided excursions to special performances and events.
With itineraries built around the great capitals of Europe and taking advantage of extensive local knowledge and experience, U is giving river cruising a modern makeover, introducing a whole new generation of travelers to the treasures of the Old World.
Your U River Cruise Awaits!
Are you ready to start planning your U River Cruise Vacation Your Way? A River Cruise Artist at River Cruise Your Way is ready to be your vacation concierge. Contact us today at 1-800-259-7612 or use the form below and let us know when it is most convenient to call you, we will confirm via e-mail, and then reach out at the agreed upon time and date.