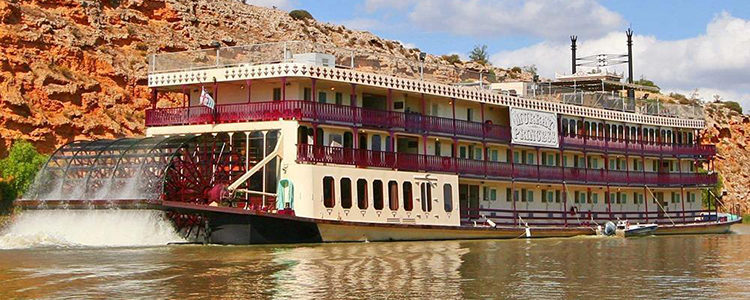 SeaLink Travel Group, the parent of Captain Cook Cruises, is one of Australia's most dynamic travel companies, bringing the nation's best tourism and transport experiences to the world. With more than 1,600 passionate staff they deliver fantastic service to more than eight million customers annually. With a vessel fleet of 77 and a coach fleet in excess of 60 vehicles, our Adelaide-based company has undergone a remarkable period of growth, emerging as a significant player on the national tourism and transport scene.
Captain Cook Cruises offers a unique river cruise experience aboard the PS Murray Princess on one of the world's longest rivers, the mighty Murray River. The Murray basin covers one third of the Australia continent across Queensland, New South Wales, Victoria and South Australia. Cruise this iconic Australian outback river highway aboard the southern hemisphere's largest inland paddle wheeler, the PS Murray Princess.
With a character and charm of yesteryear, the PS Murray Princess is an authentic paddle wheeler built for the Murray River. The Murray Princess it is propelled by its massive stern wheel which you can see in action through the two-story viewing window in the lounge. Catering for just 120 passengers, the onboard atmosphere is relaxed and informal by style, bringing the unique advantages of small ship cruising to the remarkable setting of this Australian outback river region.
Your Captain Cook River Cruise Awaits!
Are you ready to start planning your Captain Cook River Cruise Vacation Your Way? A River Cruise Artist at River Cruise Your Way is ready to be your vacation concierge. Contact us today at 1-800-259-7612 or use the form below and let us know when it is most convenient to call you, we will confirm via e-mail, and then reach out at the agreed upon time and date.